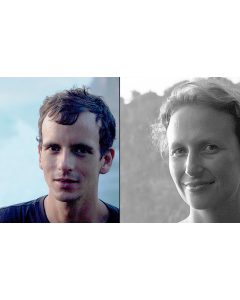 2003年にアシュタンガ・ヨガを始め、2007年以来毎年インドへ。
彼らは、KPJAYIでSharat Jois、ゴアではRolfの元で数か月を過ごす。
サイモンとローズ先生はマイソールのKPJAYIよりアシュタンガヨガの正式指導者として認められている。
現在はチャック・ミラーの教えを深めている。
実際にヨガの深い教えを実践するために、スウェーデン、オランダ、ポーランド、ブラジル、チリ、日本など世界中で指導を行なっている。
Simon Cosmelli is a professional architect, and has designed and built a state of the art lodge in Patagonia in the south of Chile, and worked as an architect in India. In 2003 he began his journey with the practice of Ashtanga Yoga in Chile.?In 2007, he embarked on his first trip to India for almost two years. During this trip he lived on holy Arunachala Hill in Tiruvannamalai, the spiritual heart of the world, and studied the teachings of Sri Ramana Maharshi. ?On this trip, Simon spent many months at the Krishna Pattabhi Jois Ashtanga Yoga Institute in Mysore, India, where he studied under the guidance of Sri K Pattabhi Jois and his grandson Sharat Jois. ?During this trip Simon also met and studied with Certified Ashtanga teacher, Rolf Naujokat. Since then he has being a devotee of Rolf's teachings, and returned to study with him in 2011 for six months. Upon returning to Chile in 2009 he worked at Ashtanga Yoga Chile assisting a Mysore program. In 2009 Simon founded a shala in Chile, Yoga Korunta, and started teaching his own daily Mysore program until 2012.
Rosangela Castellari graduated as a lawyer in 2003, the same year she began practicing Ashtanga Vinyasa Yoga. Rosangela is an experienced Reiki healer and practitioner and has a well developed awareness of energy and the human body. ?In 2006 she started teaching yoga in Sao Paulo, Brazil, where she taught Ashtanga and Hatha Yoga in several schools and companies.?Since 2008 Rosangela has traveled annually to India, where she studies and practices yoga with her teachers R Sharat Jois in Mysore, with Rolf Naujokat in Goa, and in Tiruvannamalai. In 2011 Rosangela moved to Chile, where she began teaching a morning Mysore program with Simon in Yoga Korunta.?Rosangela has been authorized by KPJAYI to teach the traditional method of Ashtanga yoga. In March 2012 Simon and Rose left Chile to undertake a journey to India, to travel and study the practice of Ashtanga yoga in-depth. They spent a long period studying with Rolf Naujokat. In the same year they taught a morning Mysore program, in Stockholm, Sweden.?From November 2012 they spent five months in Mysore, where they practiced under the guidance of Sharat Jois.?Since 2012 Simon and Rose have been across Asia and Europe as traveling teachers. They have devoted their life to the study and teaching of the Ashtanga yoga method. They share with the aim to make the practice possible for everyone, and sustainable over time through constant inquiry and study on how the body works.